Usually, a kitten will he litter-trained when ready for rehoming. However, once in his new home you will need to show him where his new toilet facilities are. Try to use the same type of tray and litter as he had in his previous home so that the change will not be too radical – cats are creatures of habit. If for some reason you need to move the litter tray, ensure you re-introduce your kitten to its new location. Most kittens and cats will cope with a change of litter brand – but will need time to adjust if you change from a natural product to a silica product.
Editor's Note – I LOVE the silica gel kitty litter. It lasts much longer and contains smells better than ordinary kitty litter. Don't be fooled by products claiming "Only contains natural materials" Your kitty litter usually ends up in the rubbish and natural-based litters then end up in landfills where the natural matter then rots and gives of greenhouse gasses. Silica gel though man-made, is a naturally occurring product. It's non-toxic, it's non-flammable and will become part of a solid landfill rather than rotting down. And don't be fooled by the price. Compare super cheap 2-litre detergent that is almost all water with a 500ml concentrate. It's the same deal with the silica gel. Twice the price, for 3 times the time it can be used.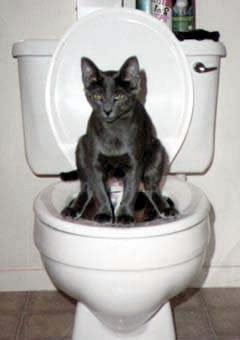 Editor's partner. However the catman loves his silica gel… our latest cat hates it, and instead will use the potplants, so we have now changed to a clumping kitty litter that we get from Amazon, that is easy to clean, smells like perfumed baby powder and arrives with a cat play toy… plus I don't have to shlep it home from the supermarket.
Editor's partner's best friend. Our cat is toilet trained… as in…. they use our toilet. So no shlepping for us, and no cleaning up mess either.